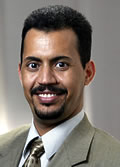 Academic Rank: Professor
Academic History: Ph.D., Louisiana State University
Area of Expertise: Product Development, with emphasis on functional foods and the development of value-added products from underutilized agricultural by-products
Campus: North Carolina A&T, Greensboro, NC
Office Location: 172 Carver Hall
Email: ahmedna@ncat.edu
Phone: (336) 334-7963
Fax: (336) 334-7293
Shipping Address:
1601 E. Market St.
Greensboro NC 27411
Peanut-Related Publications
Yu, J., Ahmedna, M. and Goktepe, I. 2006. Peanut Skin Phenolics: Extraction,
Identification, Antioxidant Activity and Potential Applications. Chapter 16
In F. Shahidi and Chi-Tang Ho (Editors) ANTIOXIDANTS: MEASUREMENT AND
APPLICATIONS, ACS  Symposium Series # 956. Pages 226-241.
Yu, J., and Ahmedna, M. 2009. Bioactive Phenolics in Agricultural
by-products. In Urupka, F. (Editor) UNDERSTANDING PLANT BIOACTIVES IN FOOD
SYSTEMS. (In Press)
Jianmei Yu, Mohamed Ahmedna, Ipek Goktepe, 2007. Peanut Protein Concentrate:
Production and Functional Properties as Affected by Processing. Food
Chemistry, 103 (2007) 121-129
Yu, J., Ahmedna, M, Goktepe, I and Dai, J., 2006. Peanut Skin Procyanidins:
Composition and Antioxidant Activity as Affected by Processing: J. Food
Comp. and Analysis 19 (2006) 364-371
Yu, J., Ahmedna, M., Goktepe, I., and Proctor, A., 2005. Effects of
processing methods and extraction solvents on concentration and
antioxidants activity of peanut skin phenolics. Food Chemistry, Vol 90/1-2
pp 199-206.