A week-long event in honor of Dr. Horace O. Lund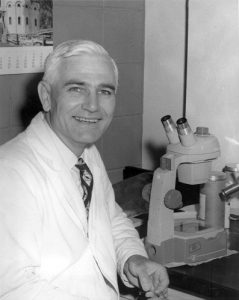 Entomology students participate in a 10 minute paper competition, an academic poster competition, a photo salon, a movie night, parasitoid games, hexapoda chimera competition, and a banquet where the H.O. Lund Seminar is given and outstanding MS and PhD students receive awards. The awards and banquet are sponsored by the H.O. Lund Fund of the Department of Entomology. Lund Week is held during the 3rd week of April annually and is organized by the graduate students of the department.
Notice
All submissions (abstracts for paper competition, poster files, photos, and sign up for parasitoid games) must be turned in by TBD. Any submissions received after this deadline are ineligible.
Parasitoid Games – Monday, April 17, 2023 – Friday, April 23, 2023
The Parasitoid Game is a game of tag loosely based on the popular campus game Humans vs. Zombies. Everyone who is participating in the game is both a parasitoid and a potential host for all the other parasitoids. Each person will try to sneak plastic eggs onto the other players without raising their suspicion during Lund Week. Eggs will be available in the Entomology office throughout the week: take only three at a time so there are enough for all players. A full list of all the players will be posted in the office during Lund week so that you don't waste your precious eggs on non-hosts.
2022 Winner: Jamal Hunter
You must let TBD know that you want to play by TBD. The game starts at 9 a.m. Monday, April 17th and ends at 1:00 p.m. Friday, April 23rd.
10 Minute Paper Competition – Monday, April 17, 2023
Participants will prepare a presentation (10 minutes maximum with an additional 2 minutes allotted for audience questions) about their current research. An abstract of 250 words maximum is required to enter the competition and must be submitted by TBD.
Email submissions to lundclub@gmail.com with the subject LUND ORAL YOUR_NAME
2022 Winners:
MS 1st Place: Zia Williamson
MS 2nd Place: Julia Berliner
PhD 1st Place: Horace Zeng
PhD 2nd Place: Emily Shelby
Where: TBD coffee and donuts will be provided
Hexapoda Chimera Competition – Tuesday, April 18, 2023
The Hexapoda Chimera Games is a contest to appreciate the creativity of the participants in creating interordinal specimens: one representing the most realistic interordinal chimera, and another for the most mythical interordinal chimera. Each person participating will receive at least 2 pinned specimens (this number can increase to 6 or more depending on participation). Each participant can submit one specimen to each category (one for most realistic, and one for most mythical). No need to sign up, just show up!
Awards: there will be one graduate winner and one undergraduate winner for each category.
Rules:
Chimera must be made of at least 2 different orders
Can include non insect arthropods
You can bring outside organisms
No artificial components (only naturally occurring body parts
2022 Winners:
Undergraduate Most Realistic: Winston Cornish
Undergraduate Most Fantastic: Winston Cornish
Graduate Most Realistic: Carissa Gilliland
Graduate Most Fantastic: Nia Keyes-Scott
Where: TBD
Photo Salon – Wednesday, April 19, 2023
Where: 5th Floor Bulletin Boards [near Vogel Lab]
Contest Rules:
To enter, upload your photos to this folder, Photo Salon 2023, send an email to lundclub@gmail.com with your name, the title of each photo with a very brief description, and identification of which category the photo should be submitted. Make the subject of the email "PHOTO SALON 23". Must receive photo submissions by TBD.
Each photo can be entered into one category. Only one photo per category can be submitted by each contestant
Entries may be color or black and white. Moderate digital adjustments (color correction, cropping, sharpening, etc. acceptable)
By submitting these photos the contestant grants to the H.O. Lund Entomology Club the right to publish the photographer's entry along with the photographer's name for promotional purposes.
The photographer must own all rights to any photographs entered in this contest.
Previously submitted photos are not permitted
The photograph submitted must be be the contestant's original work
Categories:
Insect Macro – Close-up photo of an insect. The size of the subject in the photo is greater than life size
Insect Micro – Close-up photo of an insect detail. Must NOT include the entire insect (submit these photos to the macro category). Microscopy images encouraged.
Picture an Entomologist: Photos in this category must include an element of your work. Examples: a picture of you or a fellow entomologist at work, experiments, lab photos, field shots, get creative.
Best in Show: All photos submitted will be subjected to a vote by fellow graduate students to select the best in show.
2022 Winners: Visible in the Photo Salon Gallery
Macro: "Citrus Swallowtail of the Yaeda Valley" by Garrison Piel
Micro: "Friend or Foe" by Garrison Piel
Brood X: "The Climb" by Julia Berliner
Picture an Entomologist: "Lovebug!" by Amy Sparer
Movie Night – Wednesday, April 19, 2023
Details TBA
Poster Competition – Thursday, April 20, 2023
Participants will submit an electronic copy of their poster to the Lund Club for printing (lundclub@gmail.com). Submissions must be received by TBD. Please follow this link: https://gradstatus.uga.edu/Forms/G143 to ensure your poster meets the guidelines for printing at UGA. Note: Mac users must submit a PDF of their poster. Posters can be printed to either of the following dimensions: 36″ wide by 42″ tall or 42″ wide by 36″ tall. Font smaller than size 6 is not permitted. Please indicate if you are NOT comfortable with these being shared on social media, the Lund Club website, etc. If you do not indicate otherwise we will assume you have no problem with them being shared.
Posters will be judged by the following ESA guidelines: https://www.entsoc.org/awards/student/competition_poster_info
2022 Winners:
Undergraduate 1st Place: Kennedi Clemons
Undergraduate 2nd Place: Jasmine Garner
Graduate 1st Place: Rehan Arshad
Graduate 2nd Place: Albertha Parkins
Where: Posters will be displayed on the 4th Floor Hallway near the Insect Zoo
Lund Seminar and Banquet – Friday, April 22, 2023
Location: TBD
Event begins: TBD
Dinner: TBD
Seminar Speaker will begin: TBD
Seminar Speaker:
Seminar Title: