Scientists have long been frustrated to find that their research findings are not effectively translated into real-world knowledge and practice (Suhay and Druckman, 2015). This is especially concerning when it comes to scientific knowledge that can improve the sustainability of agriculture and environmental systems. Yet rather than scolding the public for ignoring scientific knowledge, we must seek to understand the social issues (e.g., trust in information sources, risk perception, conflict, identity, and ideology) that influence the uptake and implementation of scientific knowledge.
My work in this area is building the social research capacity from within the agricultural and environmental sciences and making an impact at the national and international level. I am bringing key lessons learned through collaborations between anthropologists and public health over the last few decades to the agricultural and environmental sciences (Hahn and Inhorn, 2009): First, that effective implementation of more sustainable agricultural practices will require an in-depth understanding of the socio-cultural factors (both ideological and structural) that can impact the adoption of new ideas and technologies. And second, understanding how people really think and behave in context will enable researchers and outreach experts to communicate research findings and recommendations in ways that resonate more powerfully with their audience, to improve their uptake and implementation.
Cover Crop Adoption
Cover crops improve soil quality and water retention, and reduce soil erosion, yet current US agricultural policy largely disincentivizes the use of cover crops (Bryant et al., 2013). We are part of an transdisciplinary research team that has been awarded two major USDA Coordinated Agricultural Project grants; these two 5-year, large-scale, multi-institutional projects aim improve US water and food security through increased use of cover crops in commodity production (USDA Water CAP and Sustainable Agricultural Systems CAP, PI: Reberg-Horton, NCSU). As the lead social scientist on these projects, my work aims to characterize the social factors that influence to farmers' adoption of cover crops, and work with farmers to develop appropriate, community-based strategies to strategically reduce barriers and support the adoption of cover crops. My work also focuses on understanding the development of a broader "information ecology" related to cover crop knowledge and research. This work examines the attitudes of a broader set of stakeholders, including researchers, extension and outreach, and policy-makers to understand how this project impacts the flow of knowledge and implementation of practice.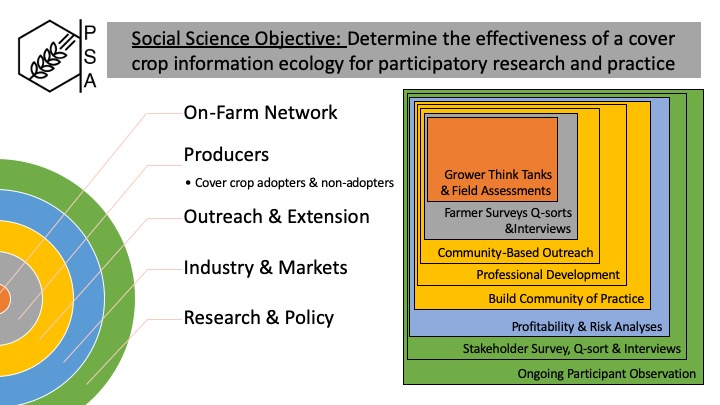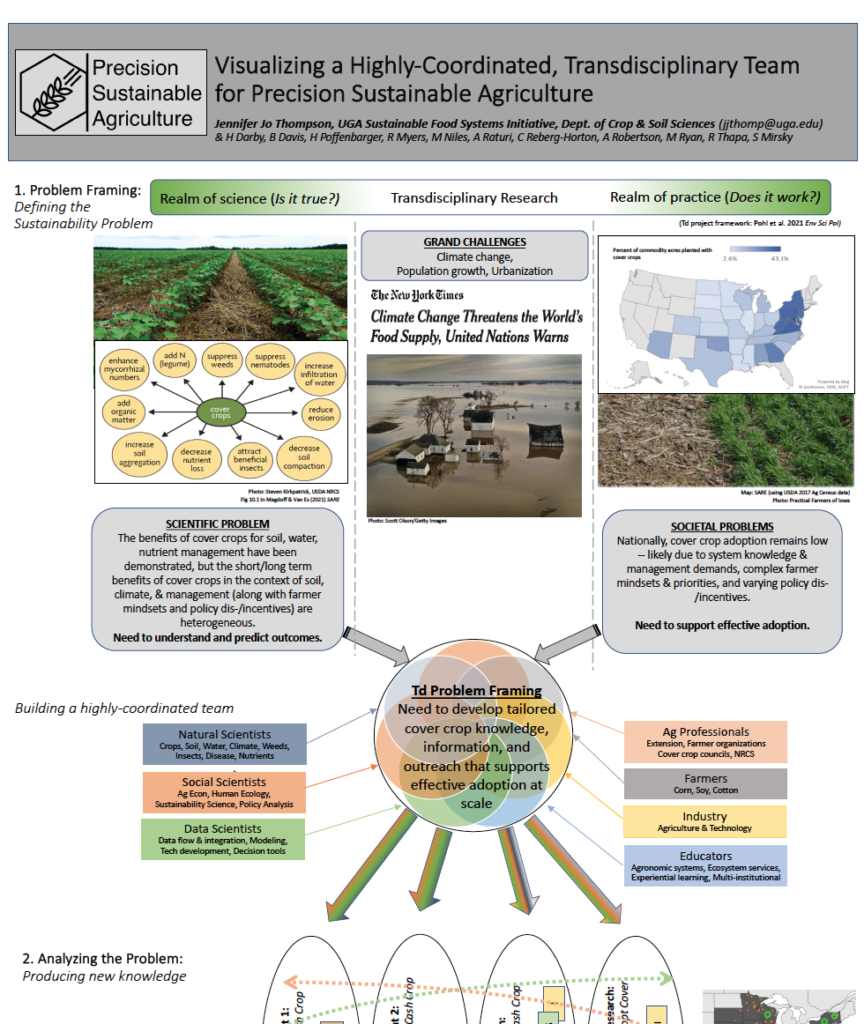 See our presentation for the 2021 International Transdisciplinary Conference: Visualizing a Highly-Coordinated Transdisiplinary Team for Precision Sustainable Agriculture
Agriculture of the Middle
With Ashley Stinnett (WKU), I have co-edited a special issue of CAFE that focuses on the "disappearing middle" in agriculture. I have co-authored an article re-theorizing the role for anthropological study of "the middle" (Thompson & Stinnett, 2018), in which we argue that anthropologists are uniquely situated to bring an ethnographic eye to the study of the lived-experience of mid-scale actors and their navigation of shifting agrofood networks. In another essay for the issue, I collaborate with a colleague in Extension, to examine efforts to develop scalable yet sustainable crop rotations (Thompson & Gaskin, 2018). We also examine the ideological and practical challenges small-scale producers face when trying to "scale-up" to serve wholesale and institutional markets. This issue grew out of a session we co-organized for the 2016 meeting of the American Anthropological Association.
See our interview on this special issue, here.